Locations
Ranger Shredding serves San Antonio and surrounding communities in central and south Texas, Little Rock and surrounding communities in Central Arkansas, and Phoenix and surrounding communities in Central Arizona. We protect our clients, businesses, and individuals, by providing secure, on-site shredding, to help them avoid identity theft and comply with local, state, and federal regulations such as HIPAA, HITECH GLB,  FACTA, FERPA, Texas Consumer Privacy Act and more.
---
How It Works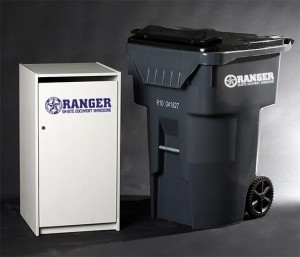 With recurring route service, we will provide, FREE of charge, a secure, locked, cabinet or bin where you deposit your documents that need to be fully destroyed. On a regularly scheduled basis, or whenever you call, we come out and shred all your documents on-site and provide you with a Certificate of Destruction.
Whatever You Need
We offer several sizes of secure, locked, cabinets and bins to meet your needs. Cabinets that hold up to 100 pounds and bins that can hold as much 300 pounds. We will configure as many cabinets and bins as necessary to meet your needs.
Whenever and Wherever You Need It
You tell us when and where. We will come to your office or other location at your scheduled time. If you need an immediate service, we will do everything possible to give you same day service or arrive within 24 hours at your location.
Saving You Time and Money
No removal of paper clips, staples or binders is necessary. Just put your documents into your locked security cabinet or bin. On a regular basis, or whenever you call, we come and pick up your bins and empty them into our shredding truck and your documents are completely shredded before we leave your location. No one will touch or view your documents once they are deposited into the locked security cabinets and bins.
Your Peace of Mind
When you watch your documents securely destroyed on-site, you can rest assured that the confidential information about your business, your clients, or your personal information has been properly disposed of and won't be stolen from dumpsters or wastebaskets. Let us give you peace of mind.
Our Equipment
You can rely on us to be on time and to work quickly, with a minimum of distraction. Our state-of-the-art shredding truck can shred paper 100 times faster than any office shredder and up to 4,500 pounds of material per hour. It's fast, easy, and very convenient. You can witness in person the confidential secure destruction of your documents. After the job is completed, we provide you with a Certificate of Destruction for your records.
Contact Ranger Shredding if you have any questions  (800) 403-9905.